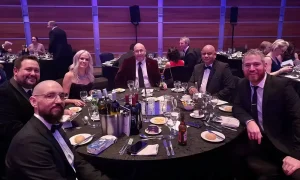 We are proud to announce that Think Healthcare has received national recognition for our role in supporting the NHS during the pandemic by winning the General Practice Telecoms Provider of the Year Award.
The General Practice Awards celebrates the best in the healthcare industry to 'recognise the national NHS heroes carrying out work on a daily basis to help others.'
Created by EVAD, Think Healthcare is an innovative integrated patient contact management service that supports more than 200 GP surgeries and saves around 200 administrative hours for each individual practice per year.
CEO Matt Hill said: "Think Healthcare was created after seeing how overwhelmed doctors' surgeries could get with calls and seeing a need to find better ways of working.
"During the pandemic, an already extremely stretched service became even busier and a major increase in calls to surgeries meant that phonelines were struggling to cope with demand, as well as patients encountering difficulties with access to services due to lockdowns, and surgeries needing more flexible working. It was all making access to vital services more challenging.
"We created a system that helps to prioritise calls, simplify the patient journey, and free up time for staff to be able to take care of other duties all while offering the flexibility to work across multiple sites.
"Think Healthcare has revolutionised how we look at healthcare with demand for the service growing. It is great our success in helping the NHS has been recognised and we look forward to our next chapter as we make the service available to more healthcare settings this year."
EVAD began by supporting a nearby GP surgery, helping it to perfect a system that ensured the phone lines are always accessible and that extra capacity was created.
The Think Healthcare service works by integrating systems through the entire surgery to increase efficiency, reduce call queues and help staff to free up more of their time to allow them to work more effectively.
The past year has seen thousands more patients gain increased access to healthcare, with the system now efficiently reducing call queues by an average of 22%. For GP surgeries with around 8,000 patients, an average of 200 administrative hours can be expected to be freed up or roughly 25 extra working days per year.
Sue Altoft, at Wilson Street Surgery, Derby said; "GP surgeries are overstretched and demand for a reactive telephony system to meet the needs of our patients is vital. Since using the Think Healthcare technology our call queueing times have improved dramatically allowing staff the time to respond to patients in a timely manner. The personal, friendly, and professional service provided by the Think Healthcare team is just what we need."
Gareth Thomas, at West Quay Medical Practice, one of the largest practices in South Wales, said: "Before we joined EVAD's Think Healthcare solution, we had an on-site system with limited lines and unhelpful management. Moving to their cloud solution was seamless. Callers never have a busy tone anymore; calls are dealt with much more efficiently and our patients are much happier. I would recommend EVAD to any primary care practice wanting to upgrade to a flexible and scalable phone solution."